In the UK there are largely two types of professional groups that practise acupuncture. One group has studied acupuncture as part of three years of Chinese Traditional Medicine studies; the other will have completed three years of Western medical studies (to become a doctor or a physiotherapist for example) and have learned about acupuncture as a post-graduate study, concentrated on and applicable to their western training.
FIND YOUR LOCAL ACUPUNCTURE PHYSIOTHERAPIST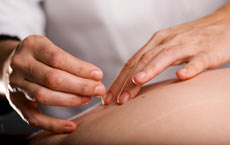 Physiotherapists are the largest group of medical professionals in the UK practising acupuncture.
The vast majority of acupuncture treatments in the UK is for musculoskeletal (physiotherapy requiring) conditions.
AACP members are Chartered Physiotherapists who had full medical training and in addition many have worked at least for one year with patients in a hospital setting or in private practice, before starting their acupuncture learning.
So they are fully aware of the physiology (functioning) of the body through their physiotherapy study and practical work.
Their additional acupuncture learning exists of 300 hours theoretical and practical studies and assessments, predominantly in the musculoskeletal area in which they graduated in the first place and based on evidence based western acupuncture research.
After successful completion of the acupuncture course, the AACP ensures that its members conduct regular CPD to keep up to speed with latest developments.
Full (accredited) membership of AACP is granted only on evidence that a physiotherapist has completed at least 300 hours of theoretical and practical training and assessments on courses approved by the Association.
Advanced membership of AACP is only granted after an additional minimum of 200 hours of training on extended courses approved by the Training Committee of the Association, or by obtaining a PhD or MSc in Acupuncture.
All members have to give evidence of 10 hours continuing professional development (CPD) every two years in order to maintain their membership status. The supervision of the education register enables AACP, together with the Chartered Society of Physiotherapy (CSP) and the Health and Care Professions Council (HCPC), to maintain the necessary high standards of practice.