Bone and Joint Week 2017
Posted on October 11, 2017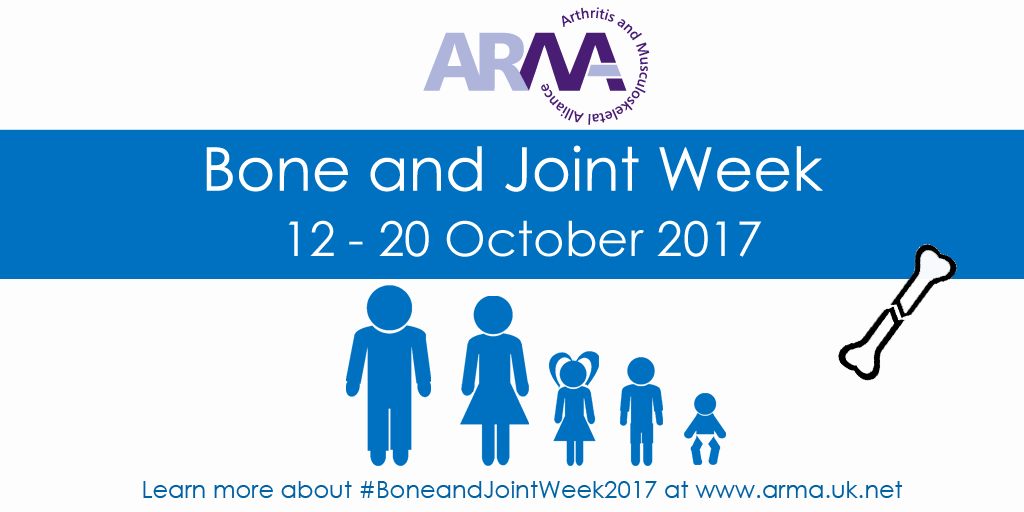 The Acupuncture Association of Chartered Physiotherapists (AACP) is supporting the 2017 Bone and Joint Week, raising awareness of musculoskeletal disorders, taking place from 12th – 20th October. The Global Alliance for Musculoskeletal Health has set the theme for 2017 "Movement is Medicine – Keep moving for health and wealth!" This reflects the importance of activity for musculoskeletal health to enable people to be independent and enjoy life without the pain of a musculoskeletal disorder (MSD).
MSDs affect nearly everyone at some point in their life; they are the biggest cause of disability in the UK, impacting more individuals than any other disease group. Musculoskeletal conditions include joint diseases such as osteoarthritis and rheumatoid arthritis; back and neck pain; osteoporosis and can stem from injuries due to sports and in the workplace or trauma commonly related to road traffic accidents. If not treated appropriately, MSDs can hinder daily activities such as working, walking, climbing stairs, cooking and personal hygiene.
Patients with MSDs are the largest patient population group treated by Physiotherapists in the UK. Physiotherapy treatment reduces the amount of time people are off sick and plays a vital role in preventing new problems developing into chronic and long lasting disorders (CSP, 2013). By using acupuncture as an adjunctive treatment alongside conventional physiotherapy treatments - such as exercise, joint manipulation and massage - for the management of common MSDs, AACP members are able to manage pain and inflammation therefore aiding recovery.
While acupuncture forms part of Traditional Chinese Medicine (TCM), it is now being supported by a growing body of scientific research and clinical evidence. Such research has supported that acupuncture may result in pain relief and increased range of movement (Irnich et al. 2002). This reduction in pain and increased mobility allows patients who would otherwise not be able to fully partake in treatment to engage fully since their pain is less likely to limit them, increasing the likelihood of improved results and an increase in quality of life.
Taking action to improve the way we deal with the health of bones, joints and muscles is important at a national, local and individual level so that we can tackle the enormous impact of musculoskeletal conditions on people and society. Doing so helps people live well, independently and actively.
With over 6,000 members, the AACP is the largest acupuncture organisation in the UK. All AACP members are chartered physiotherapists who have successfully completed acupuncture training at a postgraduate level, specifically for the treatment of musculoskeletal pain. Acupuncture combined with physiotherapy is widely accepted within both the NHS and private practice. Click here to find your local AACP Acupuncture Physiotherapist.